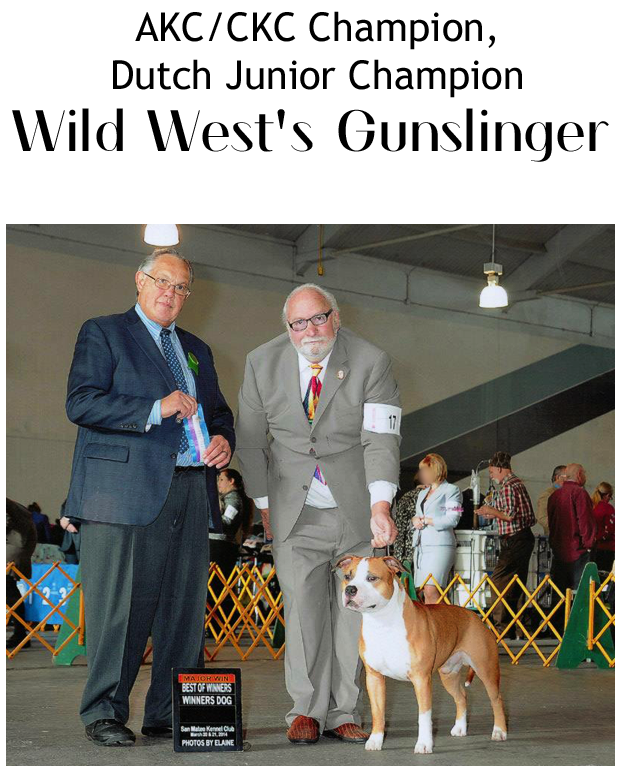 A special thank you to my friends Vicky and to, up in the heavens, John for this amazing,
beautiful, and true-to-type-temperament Staffy. It is simply a pleasure to have him in our family
and his throne on our couch. He likes to sleep there but loves the view off the back to see
who's coming home!

Gunner is proudly co-owned with Linda Kool and Ron Hiebert.



CH Parastone's Just Call Me Lucky
Flamewood's Rainbow Dragon
CH Woods Forest EZ Chances 'R'
Woodforest EZ Dragons Flame
Jackie Redwood Z Machova Kraje
Parastone's Non Stop Nonsens
Escha Z Machova Kraje
Wild West's Doc's 4 Leaf Clover
CH Sierra's Doc Holliday
CH Sierra's Gaff's Smith N Wesson
Sierra's Madam Pirate
CH Cloverhills West Wind
CH Cloverhills This Spuds For You
Cloverhills Take A Second Look



A special thank you to Cindy Schaber for this lovely promising pup.

Proudly co-owned with Linda Kool and Ron Hiebert.





BISS GRCH Roadhouse's Life of the Party CA DN CGCA
MBISS/AKC GCH Aj Artillery's Party Boy
MULTI CH Playmaker's Cotton Dragon
Icewood EZ CMon Baby
Roadhouse's RU Ellie of Casanova
Keystones Willie Farm Boy
R-U Marcella Marceau
Schaber's Angel Sinsation
CH Phoenix's Guarnsheed NoticeABull
BIS CH Circle C's Impressive I Am
CH Cicero's Royal Warrior Princess
CH Orchid's Sinfully Delicious CGC
GRCH Topshotta's Soul Rebel
CH Azteca's Sweetest Sin


December 11, 2018

I would like to thank my friend, John Glenn, for being an amazing, insightful spirit and
impacting myself and the future of my breeding program for years to come.
-April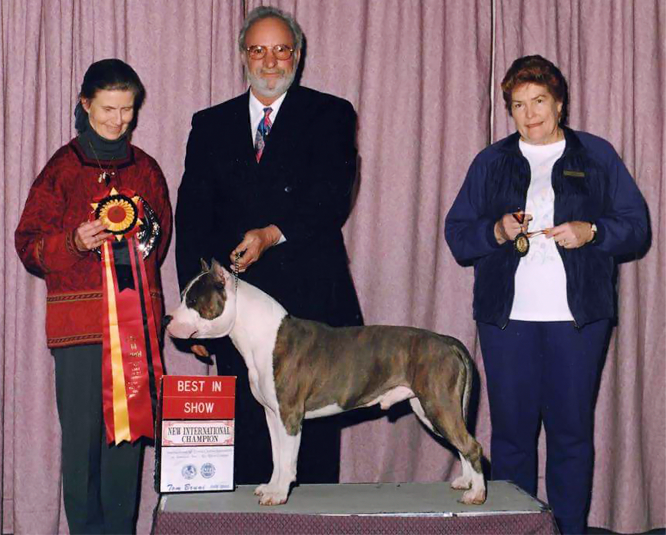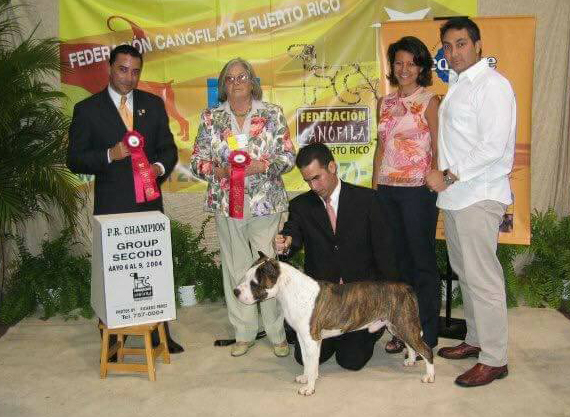 Bred by Catherine Collins & Debra Hubbenette