Please phone or email for information on our planned litters.


Pet Quality Non Breeding Contract (Mandatory Spay/Neuter): $2000.00 CDN
Show Potential (Breeding Quality): $3000.00 CDN
Co-Ownership (Conformation & Obedience/Working Titles): $1500.00 CDN
Private Treaty Contract Terms and Conditions Apply

A deposit of $400.00 CDN is required.

Show potential (breeding quality) homes may take priority at breeder's discretion.
. . . . . .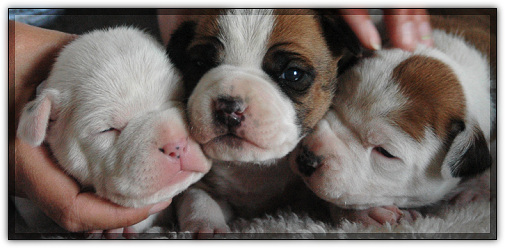 Charger puppies will be health checked at approximately
5 to 6 weeks by a certified veterinarian; they will be vaccinated,
de-wormed, tattooed, microchipped, and CKC registered;
and they will have had their dewclaws removed.
We offer complimentary 6 weeks' coverage for puppies
up to 1 year old with an officially endorsed CKC program,
in conjunction with "Pet Secure" Pet Health Insurance.
All puppies are evaluated for conformation, structure,
and temperament at approximately 8 weeks of age.
A deposit of at least $300.00 CDN is required to reserve a puppy.
The deposit is unrefundable. No exceptions.
Deposits can be transferrable to another litter but pick may change.
Pups are only sold to screened homes. The full amount must be
paid and received before puppy can leave our home.